As the war in Ukraine drags on, the direct economic cost to Europe and other countries is rising. Through unprecedently high and now long-lasting inflation, the war has increased financial fragility in households across the European Union and risks eroding public support for Ukraine. But the evidence shows that public opinion stands firm.
EU countries and institutions have committed financial, humanitarian and military support to Ukraine, totalling €62 billion as of 24 February 2023, exactly one year on from Russia's invasion. The total is estimated to be around €70 billion as of 23 May 2023 1 See European Commission, 'Factsheet: EU solidarity with Ukraine', 23 May 2023, https://ec.europa.eu/commission/presscorner/detail/en/FS_22_3862. .
Source: Bruegel based on Trebesch et al (2023).
Bilateral commitments from EU member states had reached €26.18 billion by 24 February 2023, with most of this figure consisting of military aid (€16.02 billion). Commitments from European institutions hit €35.53 billion in February 2023. The biggest chunk of this was an €18 billion package 2 Council of the EU press release, 'Council adopts €18 billion assistance to Ukraine', 10 December 2022, https://www.consilium.europa.eu/en/press/press-releases/2022/12/10/council-adopts-18-billion-assistance-to-ukraine/.  to support Ukraine's immediate needs and maintain macroeconomic stability throughout 2023 – one example being the gaping hole in Ukraine's finances, the budget deficit currently at a quarter of Ukraine's GDP 3 See 'Building Ukraine's future: financing the recovery', event held at Bruegel, 11 May 2023, https://www.bruegel.org/event/building-ukraines-future-financing-recovery. .
Table 1: Aid committed to Ukraine by EU countries and institutions as of 24 February 2023
 

Financial

Humanitarian

Military

Total

Bilateral assistance from EU countries

€ 5.26 billion

 

€ 4.89 billion

 

€ 16.02 billion

 

€ 26.18 billion

 

EU (EIB, European Commission and Council), EPF

€ 30.32 billion

 

€ 1.61 billion

 

€ 3.60 billion

 

€ 35.53 billion

 
Source: Bruegel based on Trebesch et al (2023). Note: EIB = European Investment Bank; EPF = European Peace Facility.
The European Investment Bank has pledged €668 million in liquidity assistance 4 European Investment Bank, 'Joint Statement of Heads of International Financial Institutions with programmes in Ukraine and neighbouring countries', 17 March 2022, https://www.eib.org/en/press/news/joint-statement-of-heads-of-international-financial-institutions-with-programs-in-ukraine-and-neighboring-countries. , while a series of €500 million tranches contributed by the EU to the European Peace Facility (EPF) 5 Council of the EU press release, 'Ukraine: Council agrees on further military support under the European Peace Facility', 2 February 2023, https://www.consilium.europa.eu/en/press/press-releases/2023/02/02/ukraine-council-agrees-on-further-military-support-under-the-european-peace-facility/. Established in 2021, the European Peace Facility (EPF) is a fund that aims to enhance the EU's ability to prevent conflicts, build peace and strengthen international security. It is supported by member states and does not fit into the EU core budget. See more: https://www.consilium.europa.eu/en/policies/european-peace-facility/  for military purposes now amounts to €3.6 billion committed.
This support is relatively small and sustainable. The €70 billion, encapsulating financial, humanitarian, military, emergency budget and resources for those fleeing the war, is only 0.44 percent of EU GDP.
The European economy has also been affected by high energy prices. The European Commission predicted in its spring 2023 inflation forecasts that euro-area inflation will be 5.8 percent this year 6 European Commission press release, 'Spring 2023 Economic Forecast: An improved outlook amid persistent challenges', 15 May 2023, https://ec.europa.eu/commission/presscorner/detail/en/ip_23_2723. . This is a little higher than anticipated during the winter. According to the European Central Bank, euro-area food prices were 15 percent higher in April 2023 than in April 2022 7 European Central Bank, 'Measuring inflation – the Harmonised Index of Consumer Prices (HICP)', https://www.ecb.europa.eu/stats/macroeconomic_and_sectoral/hicp/html/index.en.html .
With euro-area inflation at 8.4 percent in 2022 (European Commission, 2023), €100 in 2021 is only worth €86 in 2023. It is understandable that the public is impatient with the level of costs it faces every day and adapting energy consumption in the face of energy scarcity.
Figure 2 shows the proportion of Europeans who changed their habits to save on energy or dipped into savings due to inflation.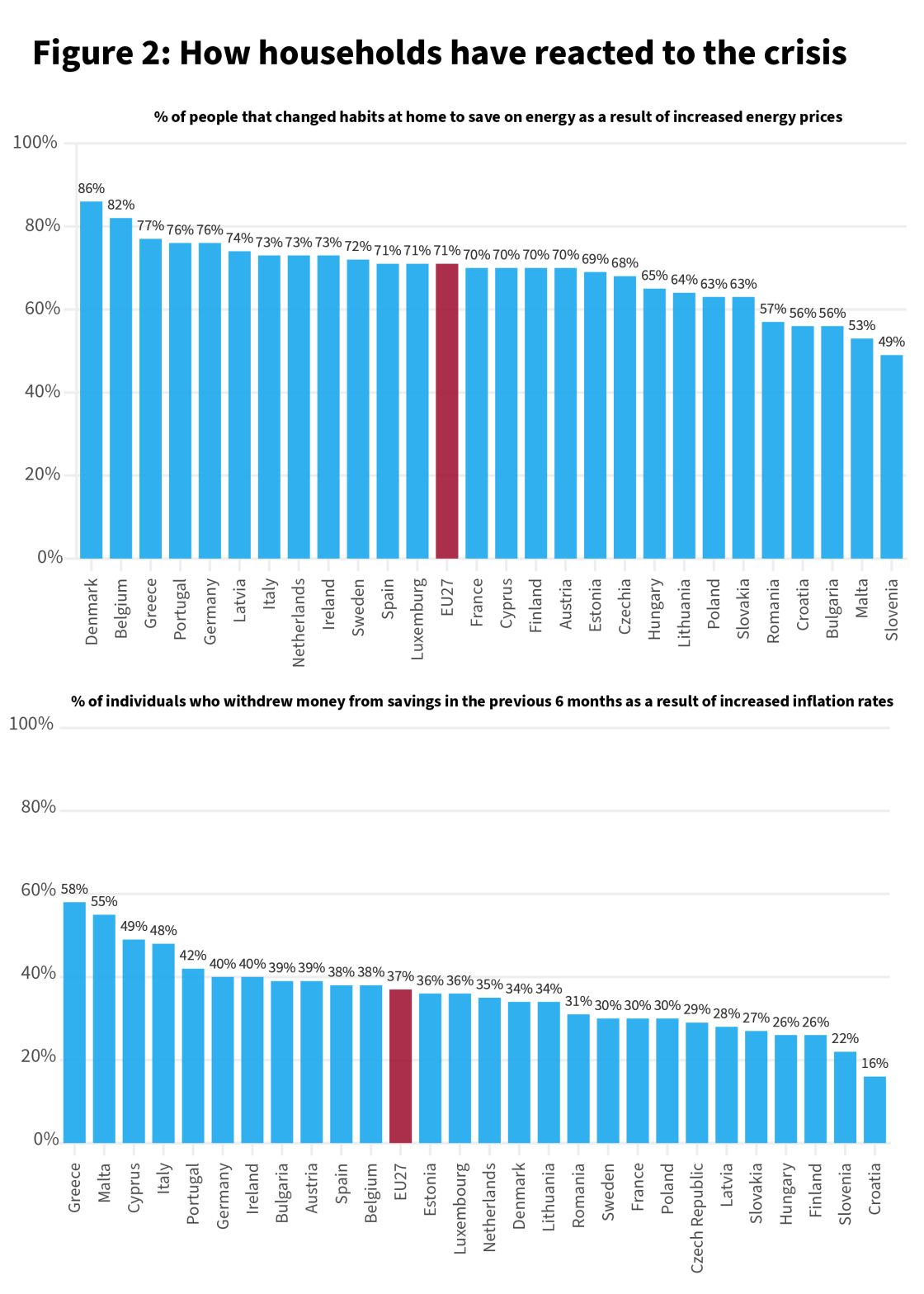 Source: Bruegel based on European Commission (2022). Interviews conducted between 18 October and 4 December 2022 with a representative sample of citizens, aged 18 and over, in each EU country.
Figure 2 shows that 71 percent of EU citizens changed habits at home to save on energy. In only one country, Slovenia, did less than half of citizens change habits (49 percent). Furthermore, 37 percent of EU citizens had to take money from their savings as a direct consequence of inflation, ranging from 58 percent in Greece to 16 percent in Croatia.
European public opinion: remarkably stable
The more expensive the war becomes, the more one might expect European public support to decrease. Indeed, there has been an overall decline in support for measures backing Ukraine.
Figure 3 shows a pattern of slow overall decline across France, Germany, Spain, Italy and Poland. The proportion of those in favour of sending arms or of economic and financial sanctions has fallen.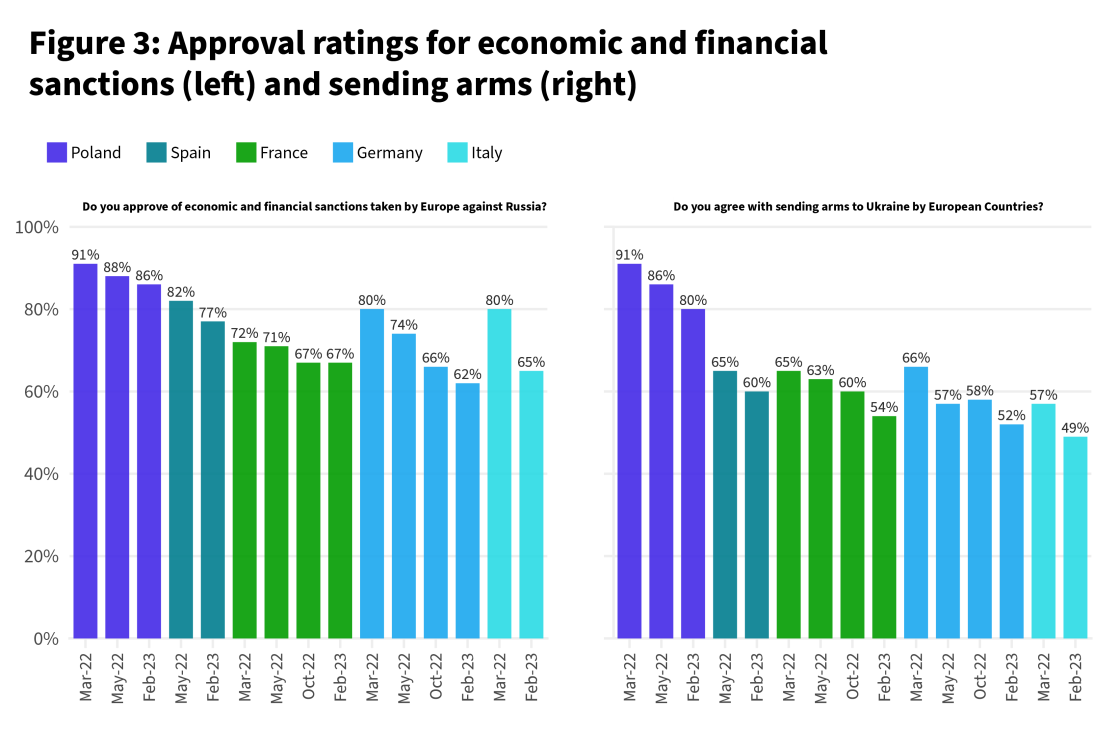 Source: Bruegel based on Ifop (2023).
Despite this decline, as of February 2023, support for sanctions and direct assistance to Ukraine remained solid, above 50 percent in all but one case. EU-wide persistent public support signals that European citizens understand that the outcome of the war is of critical importance to their own futures. Eight months into the war, the average approval rate amongst the EU27 for EU support for Ukraine was an astonishing 73 percent (European Parliament, 2022). Only four countries – Bulgaria, Cyprus, Slovakia and Greece – reported approval ratings of less than 50 percent. Furthermore, an average of 59 percent of citizens in eight Central and Eastern EU countries believe that sanctions against Russia should remain in place according to a poll conducted in March 2023 (Hajdu et al., 2023).
Meanwhile, a poll from the Kyiv International Institute of Sociology in February 2023 showed that 87 percent of Ukrainians said that under no circumstances should Ukraine give up any of its territory, even if the war lasts longer. This is an increase from 82 percent in May 2022 8 Kyiv International Institute of Sociology press release, 'Dynamics of readiness for territorial concessions for the earliest possible end to the war: results of a telephone survey conducted on February 14-22, 2023', 23 February 2023, https://kiis.com.ua/?lang=eng&cat=reports&id=1192&page=1. .
The different blocs
There are some significant disparities in popular support in different EU countries. Krastev and Leonard (2023) noted that three different blocs of public opinion have emerged: the northern and eastern hawks (Estonia, Poland, Denmark and the United Kingdom), the ambiguous west (France, Germany, Spain, Portugal) and the southern weak links (Italy and Romania). Figure 2 shows persistent support in countries from each of these groups.
Amongst even the least supportive member states, some interesting results are observed.
When individuals were asked to choose between two opposing statements on whether sanctions were worth higher prices or not, Hungary was the only one out of nine EU countries surveyed where the majority believed that sanctions were not worth it (Figure 4).
Source: Bruegel based on Ipsos (2023).
Surprisingly, the number of those who believe that the most important thing is stopping the war as soon as possible, even if Ukraine had to forfeit territory to Russia, actually declined almost across the board according to January 2023 polling reported by Krastev and Leonard (2023). Notable declines were seen in Romania and Italy – those characterised as the 'southern weak links'. This may be due to citizens becoming more willing to support Ukraine for the long run.
Source: Bruegel based on Krastev & Leonard (2023).
The United States
US aid to Ukraine in the first year amounted to 0.37 percent of US GDP (Trebesch et al, 2023). The willingness in the US to bear costs for supporting Ukraine has followed a similar pattern to the EU of slow decline across the political spectrum.
Source: Based on Figure 5, Telhami (2023).
This decline may signal 'impatience' with the war in Ukraine (especially amongst Republicans), but there are also signs of persistent support. The current level of US military expenditure to support Ukraine was either too little or about the right level according to 42 percent of respondents, as opposed to 33 percent who said it is too much. Interestingly, there is a strong preference for support staying on course for one to two years (46 percent of respondents) versus only 38 percent who would accept providing support to Ukraine for 'as long as it takes' (Telhami, 2023).
Whilst there is a clear division along party lines, there is reduced support amongst Democrats and Republicans. This means that the future of American support for Ukraine may change even before the 2024 elections. Lower support across the political spectrum during the upcoming electoral season could result in reduced backing from the Biden administration or in Congress, as both sides vie for votes. This is before a potential Republican victory, which under certain scenarios, may stop or dramatically limit support from the US.
Conclusion  
An erosion in public support for Ukraine might have been expected as the cost and economic consequences of the war began to impact EU households through inflation. But support for Ukraine has remained strong, suggesting that the public understands fully the wider implications for European security of the outcome of the war. The public sides overwhelmingly with the Ukrainians, which are clearly perceived as the victims of an aggression.
This is consistent with the growing support for maintaining or increasing defence spending. Most NATO citizens (74 percent in 2022 versus 70 percent in 2021; NATO, 2023) think that defence spending should either be maintained at current levels or increased (with some significant differences from 85 percent to 52 percent, but always with a majority supporting). Just 12 percent think less should be spent on defence.  
Public support could decline more in the future. If news from the battlefield suggests a protracted conflict in which neither side can prevail militarily, then time and the potential decline in US support may affect EU public opinion. A successful Ukrainian counter-offensive would play an important role in the continuance of Western support for the war. In the absence of progress on the battlefield, voices calling for a peace settlement, even on unfavourable terms to Ukraine, might gain traction in the public debate. In upcoming elections, this could benefit political parties less favourable to supporting Ukraine for 'as long as it takes'.
European leaders must therefore prepare for several scenarios. Significant Ukrainian successes in the battlefield in the near future could pave the way for a positive settlement and the restoration of Ukrainian sovereignty and its reconstruction. The EU must also prepare for the more complex outcome of a protracted war, which would require sustained efforts to support Ukraine militarily (Grand, 2023) and economically. This would require further and constant political efforts to keep public opinion on board, preserving European and Western unity in a potentially degraded economic and political environment.
European Commission (2023) European Economic Forecast Spring 2023, European Economy Institutional Paper 200
European Commission (2022) Consumer Conditions Survey 2022, available at https://commission.europa.eu/system/files/2023-03/ccs_2022_country_data.pdf
European Parliament (2022) Euro Barometer Autumn 2022, Parlemeter 2022 (98.1 | EB042), available at https://www.politico.eu/wp-content/uploads/2023/01/12/EP_Autumn_2022__EB042EP_presentation_en.pdf
Grand, C. (2023) 'A question of strategic credibility: How Europeans can fix the ammunition problem in Ukraine', European Council on Foreign Relations, 18 April, available at https://ecfr.eu/article/a-question-of-strategic-credibility-how-europeans-can-fix-the-ammunition-problem-in-ukraine/
Hajdu, D., J. Kazaz, K. Klingová, P. Szicherle, V. Musilová (2023) GLOBSEC Trends 2023: United we (still) stand, Centre for Democracy & Resilience, 22 May, https://www.globsec.org/what-we-do/publications/globsec-trends-2023-united-we-still-stand
Ifop (2023) Regards européens sur la crise en Ukraine - Vague 4, Ifop pour La Fondation Jean Jaurès et Le Figaro
Ipsos (2023) The World's Response to the War in Ukraine, Global Advisor survey, available at https://www.ipsos.com/sites/default/files/ct/news/documents/2023-01/Global%20Advisor%20-%20War%20in%20Ukraine%20.pdf
Krastev, I. and M. Leonard (2023) 'Fragile unity: Why Europeans are coming together on Ukraine (and what might drive them apart)', ECFR Policy Brief, March, European Council on Foreign Relations, available at https://ecfr.eu/publication/fragile-unity-why-europeans-are-coming-together-on-ukraine/
NATO (2023) The Secretary General's Annual Report 2022, available at https://www.nato.int/nato_static_fl2014/assets/pdf/2023/3/pdf/sgar22-en.pdf
Telhami, S. (2023) 'Americans show signs of impatience with Ukraine war', Brookings Commentary, 28 April, available at https://www.brookings.edu/blog/order-from-chaos/2023/04/28/americans-show-signs-of-impatience-with-ukraine-war/
Trebesch, C., A. Antezza, K. Bushnell, A. Frank, P. Frank, L. Franz, I. Kharitonov, B. Kumar, E. Rebinskaya and S. Schramm (2023) 'The Ukraine Support Tracker: Which countries help Ukraine and how?' Kiel Working Papers 2218, Kiel Institute for the World Economy