For Europe, thinking about energy security means thinking about Russia. First in January 2006 and then in January 2009, gas pricing dispute between Russia and Ukraine led to the halt of Russian gas supplies to Europe via Ukraine – its primary transit route. This generated economic damages for Europe, notably in South-Eastern European countries heavily dependent on Russian gas for both electricity generation and residential heating.
Europe responded to these gas crises by adopting an energy security strategy mainly focused on reducing its dependency on Russian gas supply. The high priority given to Russian gas supplies arose because: (1) gas represents about one quarter of the European energy mix; (2) about one third of this gas is imported from Russia; and (3) in contrast to oil or coal, it is not possible to bring large amounts of gas to where it is needed if the corresponding infrastructure is not in place.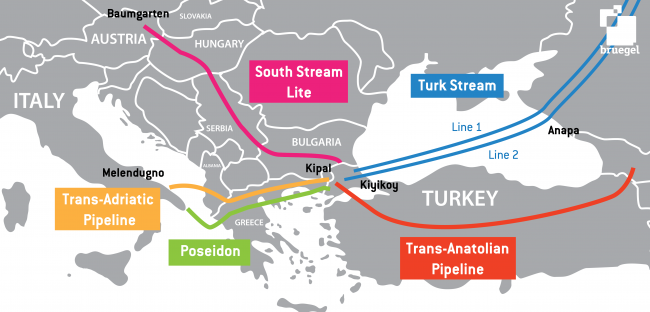 In the midst of the 2014 Ukraine crisis, concerns about a potential politically motivated disruption of all European gas supplies from Russia lifted again energy issues to the top of the European agenda and led to the creation of the EU Energy Union.
While Europe developed its energy security strategy, Russia also developed its own strategy, primarily aimed at maintaining its share in the European gas market in the future. To do this, Russia primarily intends to secure its supplies by diverting all its gas transit to Europe away from Ukraine by 2020.
In view of achieving this target, in 2015 Gazprom signed an agreement with major European energy companies to construct Nord Stream 2, a pipeline aimed at diverting away from Ukraine 55 billion cubic metres per year (Bcm/y) of gas transit, by expanding the existing direct link – Nord Stream 1 - between Russia and Germany.
Since 2015, Nord Stream 2 has been at the centre of all European discussions concerning the EU-Russia relations in general, and the European energy security in particular. But as endless political discussions in Europe are being held on this pipeline project, the pipes of another similar Russian pipeline project – Turk Stream – are already being laid by Gazprom at the bottom of the Black Sea.
Launched by Russia president Vladimir Putin in December 2014 during a state visit to Turkey, Turk Stream is a pipeline projected to deliver 31.5 Bcm/y of gas to Turkey and Europe. As in the case of Nord Stream 2, also this project is not aimed at carrying additional volumes of gas, but just to partially replace flows that currently reach Turkey and Europe through Ukraine.
Turk Stream comprises two lines, each with a capacity of 15.75 Bcm/y. Line 1 is designed solely to supply Turkey, while Line 2 is intended to deliver gas to Europe.
After a year of works, construction of the offshore part of Line 1 was completed on April 30th 2018; the onshore parts remain under works. With the construction of Line 2 also progressing, both lines of Turk Stream are expected to be finalised by the end of 2019.
However, due to EU anti-monopoly rules Gazprom, as a supplier, is prohibited from operating gas pipelines inside the EU. The Russian company is thus currently exploring potential alternative options with European gas grid operators for bringing the 15.75 Bcm/y capacity of Turk Stream's Line 2 to European markets.
The first option would be to link Turkey and Austria with a pipeline running through Bulgaria, Serbia and Hungary. This pipeline has been dubbed 'South Stream Lite', as it would roughly follow the path of the proposed South Stream pipeline, which was scrapped by Russia in 2014 following opposition from the European Commission.
Not by coincidence, elements of the original South Stream project are recently being revived by Bulgaria and Serbia. Bulgarian gas grid operator Bulgartransgaz recently acquired a series of assets with the aim of creating a Balkan gas trading and transport hub. Bulgartransgaz and Serbia's Gastrans have also started to explore gas companies' interest in utilising potential pipelines connecting Bulgaria to Hungary. From Hungary, pipes could run to Austria via planned or existing routes.
The second option would be to link Turkey and Italy with a pipeline running through Greece. The feasibility study for such a pipeline was conducted in 2003 by Greece's public gas supply company DEPA and Italy's energy company Edison. The development of the project – named Poseidon – was then covered by an intergovernmental agreement signed in 2005 between Greece and Italy.
When, in 2013, the group of companies operating Azerbaijan's Shah Deniz II gas field – which constitutes the main source of the Southern Gas Corridor – chose the Trans-Adriatic Pipeline (TAP) to link the Trans-Anatolian Pipeline (TANAP) to Italy, the Poseidon project was eclipsed. It has only recently been revived, based on the potential opportunities of linking Turk Stream to Italy, as well as a potential pipeline running from Israel to Greece – the East Mediterranean pipeline – to Italy.
The third option would be to make use of the spare capacity of the TAP. The 800km-long pipeline – currently under construction – will serve to deliver 10 Bcm/y of Azeri gas to Italy, starting in 2020. However, the TAP's capacity can be expanded to 20 Bcm/y with the addition of new compressing stations. The pipeline also has a physical reverse-flow feature, allowing gas from Italy to be diverted to South East Europe if energy supplies are disrupted or more pipeline capacity is required to bring additional gas into the region.
This flexibility could make the TAP a very attractive option for Turk Stream. However, considering that Turk Stream's Line 2 is not intended to deliver an additional supply to Europe, but just to divert part of the existing supply that currently enters Europe via Ukraine, existing contracts between Gazprom and European partners – such as Italy – should also be taken into account.
In this regard, South Stream Lite could offer the most viable option for Gazprom, as it would not require the change of existing contracts with European partners, on which the delivery point for contracted supplies is set at Austria's Baumgarten. Gazprom will certainly announce a decision on the preferred route very soon, as it targets first gas flows to Europe via Turk Stream as soon as early-2020.
The speed of these developments should not surprise anyone. Russia seeks to cut its current 90 Bcm/y of gas transit via Ukraine down to 10-15 Bcm/y after 2019. With Nord Stream 2 under fire from European policy makers, Turk Stream clearly becomes an essential bargaining chip for Russia in the 'great-game' of Ukrainian gas transit.