China in the world, as seen from Europe
ZhōngHuá Mundus is a monthly newsletter by Bruegel, bringing you analysis of China in the world, as seen from Europe.
Each edition contains a comment from Alicia García-Herrero, a podcast hosted by Giuseppe Porcaro featuring an external guest, as well as publications from Bruegel experts.
READ PAST EDITIONS
The Belt and Road Initiative transformation makes it a more – not less- useful tool for China, with Alessia Amighini, March 2023
How well does China's reopening bode for the economy? A political economy story, with Steven Ying, February 2023
The boom, bust and future of China's real estate sector, with Yunpeng Zhang, January 2023
China-India relations and their impact on Europe, with Jagannath Panda, December 2022
The geopolitics of semiconductors and what Europe can expect, with Jason Hsu, November 2022
China's growing influence in the Western Balkans: The case of Serbia, with Mira Milosevich-Juaristi, October 2022
Struck by multiple shocks, China is exhausting its two engines for additional stimulus, with XU Sitao, September 2022
China's tales of the future, with LYU Guangzhao, August 2022
BRI 2.0: A renewed Belt and Road Initiative focused on Asia first, with Asanga Abeyagoonasekera and Xue Gong, July 2022
Is China bailing Russia out? with Alexander Gabuev, June 2022
China's dynamic zero-COVID policy is battering an already weak economy, with Jörg Wuttke, May 2022
What to expect from China's drive for innovation, with Naubahar Sharif and Reinhilde Veuglers, April 2022
Revisiting China-Russia economic relations after the invasion of Ukraine, with Elina Ribakova, March 2022
Human capital, China's key to escaping the middle-income trap, is still a problem, with Scott Rozelle, February 2022
Japan's economic relations with China: What can Europe learn? with Yoshikazu Kato, January 2022
What to expect from the Chinese economy in 2022: Renewed deceleration notwithstanding government stimuli, with Haibin Zhu, December 2021
A regulatory iron fist for Chinese big tech, with Rui Ma, November 2021
What can we expect from the Chinese leadership's 'common prosperity' drive? with Minxin Pei, October 2021
As the COP26 summit nears, all eyes are on China, with Michal Meidan, September 2021
China's Communist Party at 100: a celebration of economic achievements with looming challenges, with Steve Tsang, July 2021
Will the private sector save China's growth model?with SHAN Weijian, June 2021
New kid in the playground: China's antitrust push, with Angela Zhang, May 2021
China's second attempt to internationalise the RMB by launching its own digital currency, with ZHU Min, April 2021
China's 14th Five Year Plan and the middle-income trap, with Shirley Lin, March 2021
Podcast series

Bringing you analysis of China in the world, as seen from Europe.
Experts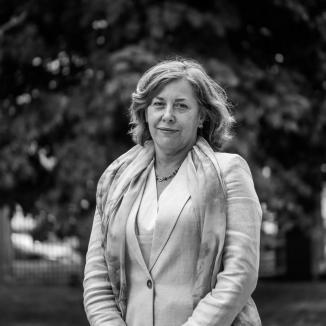 Head of Outreach, Governance and Human Resources
Starting November 2022, this newsletter is an output of China Horizons, Bruegel's contribution in the project Dealing with a resurgent China (DWARC). This project has received funding from the European Union's HORIZON Research and Innovation Actions under grant agreement No. 101061700.