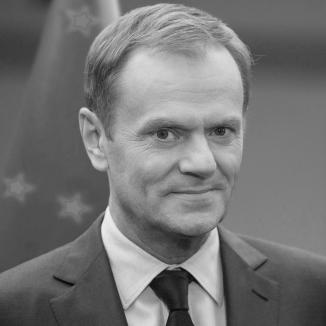 Donald Tusk
President of the European Council,
Donald Tusk was born on 22 April 1957 in Gdańsk, Poland. In 1976 he started studying history at the University of Gdańsk, where he engaged in illegal activities against the communist regime. Tusk got involved with Solidarity in 1980, later becoming one the movement's prominent young intellectuals and activists; in 1983 he launched the Political Review, an underground periodical promoting economic liberalism and democracy. After the fall of communism, Tusk was one of the founders and leaders of the Liberal Democratic Congress, Poland's first pro-business and pro-Europe party.
In the 1990s, Donald Tusk was a Member of Parliament, serving, inter alia, as deputy Speaker of the Senate. In 2001, Tusk was one of the initiators of the Civic Platform, a centrist party of which he became leader in 2003. In 2007, Tusk became Prime Minister, an office he held for seven years, making him the longest-serving Prime Minister in democratic Poland, and the first to be re-elected.
In 2014, Donald Tusk was unanimously elected President of the European Council.
Blog post

Speech held at Bruegel Annual Dinner, Brussels 7 September 2015