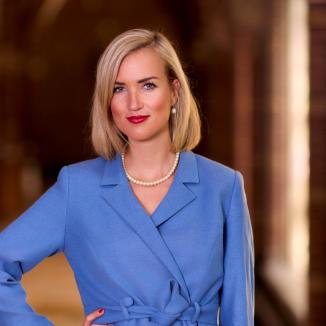 Alissa M. Kleinnijenhuis is a non-resident fellow at Bruegel, as well as visiting the Imperial College Business School (Finance group). She has been a Research Scholar at the Stanford Institute of Economic Policy Research at Stanford University and a Research Associate at the Institute for New Economic Thinking at the Oxford Martin School of the University of Oxford. Alissa is a Co-PI of a Market Ecology, Climate Finance & Financial Stability Grant and Co-Founder of the Environmental Stress Testing and Scenarios Program, both at the University of Oxford. She taught a novel course at Stanford University on Climate Finance. Alissa actively collaborates with and advises governments, central banks, corporations, think tanks and international institutions, including the European Central Bank, the Bank of England and the International Monetary Fund.
Dr Kleinnijenhuis' research examines how finance can advance the public good, focusing on leveraging the financial sector for a climate change solution. She holds a BSc from Utrecht University in Economics and Mathematics, an MSc in Mathematics and Finance from the Imperial College London, and a DPhil (Ph.D.) in Mathematical and Computational Finance from the University of Oxford. She was a Postdoctoral Fellow at the MIT Sloan School of Management and the MIT Golub Centre for Finance and Policy (GCFP) at the Massachusetts Institute of Technology. She has been a Visiting Scholar at Yale University and the University of California Santa Barbara, and has conducted research at Morgan Stanley and Allianz Global Investors.
Event

What are the economic and cooperative mechanisms for developed countries to assist EMDEs in decarbonization?
Event

Invitation-only event featuring Alissa M. Kleinnijenhuis, who will talk about the economic potential of the green transition.