Speakers
Former Director
Director and CEO, German Council on Foreign Relations
Director General, Swedish National Debt Office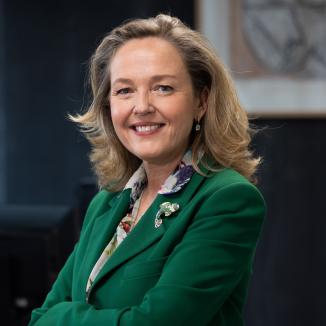 First Vicepresident of Spain and Minister for Economy and Digitalization, Spain
VIDEO AND AUDIO RECORDINGS
Full agenda:
This session of Bruegel's 2021 Annual Meetings was a live recording of The Sound of Economics, Bruegel's podcast series. We were delighted to welcome Nadia Calviño, (First Vice-President and Minister for Economy and Digitalization, Spain) and Karolina Ekholm, (Professor, Stockholm University), to discuss the EU recovery fund, its state of play and outlook with Bruegel Director Guntram Wolff.
To listen to the latest from The Sound of Economics, follow our channels on Apple Podcasts, Spotify, Google Podcast or Audioboom.
summary
Bruegel Director Guntram Wolff hosts a conversation between Nadia Calviño, First Vice-President and Minister for Economy and Digitalisation of Spain and Karolina Ekholm, Professor in Stockholm University and member of the Bruegel board on the state of play and outlook of the EU recovery fund.
The recovery plan gives Europe a chance to emerge stronger from the pandemic, transform the economy and create opportunities and jobs. It is important that those plans are implemented in a manner that is efficient, fair and sustainable. The first part of the session is about the Spanish recovery and the recovery plan, which has already been approved by the Commission and is moving to implementation as the first disbursements of funds has already been materialised.
The session then moves to the recovery plans in general and to their role in the recovery of the economy and society after the pandemic. Despite the fact that this instrument was inspired as a response to the pandemic, it is argued that it is an instrument that could encourage structural reform and long run growth and not only a measure to boost aggregate demand.
Finally, the discussion also touches up the risks and challenges of the proper and successful implementation of the recovery plans. Although the plans and the recovery mechanism appear to be very strong on paper, continuous monitoring and evaluation of the progress towards milestones and objectives is very important for a successful implementation.
Listen in to learn more details on the Spanish programme and the risks and success factors of the recovery programme for the EU as a whole!